Join Nextdoor, Build a Stronger Neighborhood and Get an Amazon Gift Card!
What is Nextdoor?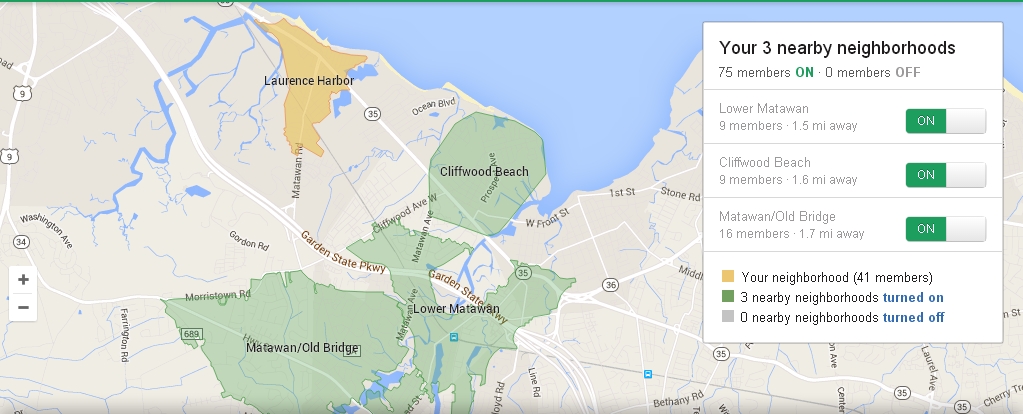 "Nextdoor is the private social network for your neighborhood. It's the easiest way for you and your neighbors - and ONLY you and your neighbors - to talk online and make all of your lives better in the real world. And it's free."
I give away things, ask for help, send out alerts, post weird things and so on. Sure, you can do this on Facebook, but I like how Nextdoor organizes things and it allows me to keep some parts of my life separated. Give it a shot...you won't be disappointed. And be sure to use either of the links in this post and you'll get a gift card just for signing up, too!
Participate in a Study of the Harbor!
I have been introduced to a PhD student from the New Jersey Institute of Technology (NJIT) in environmental science and policy who is studying Laurence Harbor. She is looking for long-term residents (living in the area >5 years) that would be willing to be interviewed (no longer than an hour). I did the interview; really interesting questions. She mentioned she would love a few President's section residents; Madison Ave, Jefferson Ave, Monroe Ave, Lincoln Ave, Garfield Ave, Cleveland Ave, Harding Rd, McKinley Ave, Roosevelt Ave, Wilson Ave and Bayview Drive.

She is investigating what residents think about the physical features in the area (both built structures and natural features) that exist to reduce coastal hazards or impact from coastal hazards, such as flooding, erosion, and storms. I hope you will consider participating. The goal of her research is to inform policy decisions regarding coastal hazard mitigation. If you would be willing to participate, you can contact her at: PhDresearcherNJIT@yahoo.com or through her Facebook page: https://www.facebook.com/DissertationResearchStudy (you have to be logged in to see it)
Remember, Election Day is November 3, 2015
This Tuesday, go to the polls and vote! After all, the indomitable Dave Merwin and many other locals are running. Don't be silenced and get practice for 2016!
EPA Directs NL Industries to Clean Up Raritan Bay Slag Superfund Site
The press release says it all; National Lead needs to follow EPA's selected option of full clean up and remove all contamination from the Laurence Harbor waterfront, jetty and Margaret's Creek. Cleanup keeps moving.

Mystery Punkin Chunker Sighted Near Gazebo in Old Bridge Waterfront Park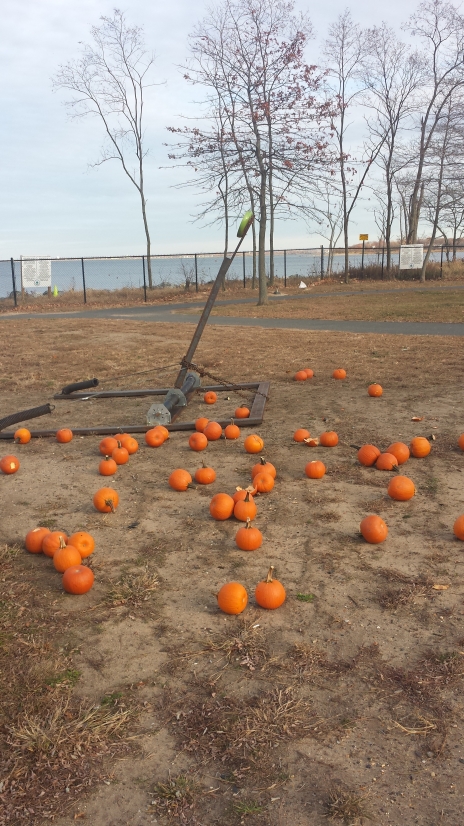 Unhappy farmer left with too many pumpkins? Pranker? Banksy takes detour to Laurence Harbor?

Bald Eagle Sighting in Laurence Harbor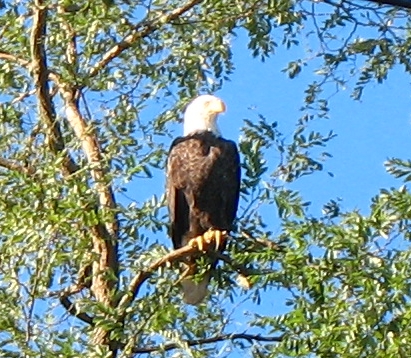 August 30, 2011 - Osprey chased him away


Rolling Thunder Echoes Through Laurence Harbor